If it isn't obvious enough, we love interior painting and know its many benefits. Most people don't realise how much it can do for the home and not just a room in particular but how it can elevate the entirety of the house.

Increase the value of your home
If you're looking to sell your property and want to add some extra value, a fresh coat of paint could be all you need. It creates a clean, appealing look to prospective buyers, adding value. When it comes time to stage an open house, buyers will appreciate the effort and understand the importance of a fresh coat of paint.

Shift the feeling of a room
Have you ever wondered why the room still feels drab no matter how many times you shift furniture or swap out cushions and a throw blanket? It's not you; it's the paint. This can be more prevalent in older houses where the off white yellow was the hottest paint colour to choose. Your paint colour can be why a room feels so off, no matter what you do to it.
Colours have the ability to change our mood and overall state. Colours like green and blues can fit the bathroom, giving a calming and soothing effect. In comparison, oranges, reds and beige tones give people the inkling to talk and communicate. If your interested about the impact that colour can have, click here to find out more.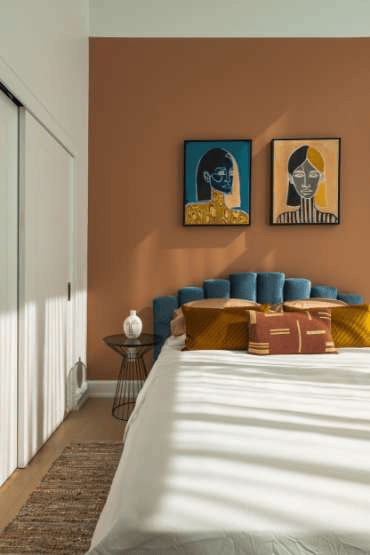 Protect and prevent damage to your walls
Part of our job at Barker Whittle is to prep the space to ensure the cleanliness and longevity of the paint. Painting an interior space allows for your walls to be cleaned of daily grime, fingerprints and scuffs and leaves you with a protected space for years to come.

A fresh coat of paint protects against any moisture, mildew, or mould that would have developed—leaving you with a protected space for years to come. Not only this, it will cover any small indents or imperfections that are already existing.

An excellent place to get your feet wet if you're thinking about renovating
If you're considering a reno or know that a particular room in your house needs some tender love and care, painting a room or even just one wall can give you insight into what your colour scheme and overall aesthetic will end up feeling like.

Personalise your space
Your home is a space where you should feel comfortable and enjoy the elements around you. This is even more fitting for those who have recently bought a house or apartment; all of the colours, fixtures and fittings have been predetermined, so they don't give you a chance to make it your own.

Painting gives you the chance to pick colours based on your furniture and what you like; you can put your spin on what you want your space to feel like. Painting is also an excellent opportunity to add quirkiness and fun to your room.

The finished look is worth it
We can't look past the aesthetics; a freshly painted room gives that sense of something new and brightness. Painting gives you a chance for your home to look unique and refreshed without having to remodel the entire house completely.

If we still haven't convinced you of all the benefits of interior painting, get in contact with us for a Quote