Aluminium windows are practically iconic on an Australian street. They've been around since 1940, so we can almost guarantee a house near you has them. Whilst in some houses, aluminium frames can be an eyesore and not what you envisioned for your dream home, they're a great practical option, and it doesn't take much to transform them. Aluminium window frames are long lasting, great for insulating, and won't rot like timber frames. There low maintenance and only need a wipe-over every two to four months to keep them clean. Not to mention the amount of money you can save by repainting the frames.

If you want to read more about saving money by painting them, click here to read our blog post. However, if you like a bit of DIY or are on a shoestring budget, these are our foolproof tips to paint them yourself.

Step 1
The same goes for any paint job, but specifically for painting aluminium. It needs some extra love and care. Firstly you're going to want to give your windows a clean, warm soapy water or sugar soap works perfectly. If you're struggling to clean them, an old toothbrush is handy to get into the hard to reach places. Once they're clean, use 180 grit sandpaper leaving the surface with a flat finish. If you are inside, ensure you have windows or doors open for ventilation. After you've finished sanding, wipe over thoroughly, ensuring no dust is left behind.

Step 2
Once your window frames are clean and dried, the next step is to tape your area. Butchers paper or newspaper works to cover the windows and then tape it down with painter's tape. Ideally, put down a drop sheet to ensure none of the paint goes anywhere other than where you want it to.

Step 3
Next, you'll want to use a primer as your undercoat. This isn't a step that should be skipped. A primer will adhere to the surface and grab hold of the paint applied afterwards. This is where the significant advantage of doing this job yourself comes in, spray paint. Spray paint is much more forgiving than regular paint. However, whenever you use spray paint, wear a mask.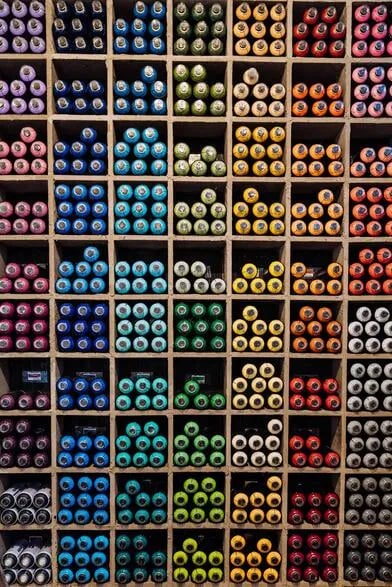 Step 4
A significant advantage of painting aluminium windows is that they don't need a paintbrush or roller. An aluminium window can be spruced up with a tin of spray paint. When buying your spray paint, look for either latex or acrylic based spray paints. However, always double check with your local hardware store.
Shake the can well before use. When spray painting, spray from top to bottom and use even strokes. With spray paint, you're better off doing thinner coats rather than thicker ones. We recommended applying two to three coats, making sure to wait before the first is dry before applying another. You should expect a single coat to be dry within 20 to 30 minutes. How many coats you will need will depend on what colour you've chosen and what the original colour of the frame was.

Step 5
Once the spray paint is visibly dry, carefully remove the tape and butchers paper. If you have any spray paint that's ended up on the windows, use mineral turpentine and an old rag to clean up the excess. Wait 24 hours and let it fully dry. Keep the room open for ventilation.

If you're not happy with the result, or maybe you've bitten off more than you can chew, contact us at Barker Whittle, and we'll gladly give you a quote.