When you think about giving your home a fresh look, it's easy to jump to the idea that bigger is better. Before you reach for the renovator's number and start making structural changes, consider how a coat of paint could lead you to some quick wins with great returns. Whether you're wanting to spruce up your home to sell or to create new memories in, here's how to make paint add value without the risk of overcapitalising.
Make it count from the first moment
Curbside appeal is vital when you're planning to make a great first impression. Paying attention to the condition of your front door, boundary fence and exterior walls goes a long way towards lifting the mood and conveying a warm welcome to your family and guests. Breathe new life into your home's appearance with expertly applied paint that gives you results overnight. It has an added security advantage — burglars are more reluctant to break into homes that appear well-tended and visibly busy.
Choose colours that sell
The mood of a space is largely influenced by choices in light and colour. Paint is an efficient way to inject large blocks of colour into your home without losing space by bringing in statement pieces like large furniture or heavy curtains. Using warm neutral colours for interior walls also helps when staging your house for sale, as potential buyers can more easily imagine their own belongings in the space. Greys, beiges and tans are popular because they photograph well.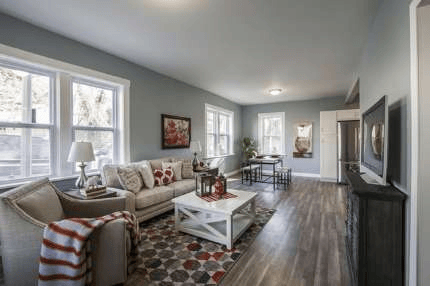 Pay attention to the trimmings
The condition of your finishes can make the difference between your freshly painted walls making a positive impression or appearing sloppy. Make sure your hard work doesn't go to waste by completing your home's new look — update your trimmings too. For example, painting aluminium frames in an accent colour can personalise a room and make an otherwise bland window design look crisp and clean.
Paint your room into the right size
A splash of well-chosen colour can make a small room look brighter, or help create a warm atmosphere in a cavernous space. Light, pastel colours give the illusion of larger space by reflecting light, while warm, darker shades absorb light and help you feel grounded in big rooms. Before making structural changes to your home, work with colour first — you may be pleasantly surprised.
Work with what you're given
Take into account any fixed elements in the area you intend to paint and how natural light already affects it and choose the paint that works with it to create your ideal mood. Textured finishes can often be all you need to showcase dappled sunlight to great effect, conceal blemishes or add visual depth. The function of each room also determines the best paint and finish — using eggshell or semi-gloss paints in your bathroom makes them more resistant to damp and easier to clean.

Expert application can make all the difference, especially for trickier work like textured finishes and aluminium painting. Ultimately, the one way to guarantee the best return on your investment is to entrust the job to painting experts. Barker Whittle have been premier painters in Perth for more than 40 years. Get the job done right the first time around and contact us for a no-obligations quote.