What better way to celebrate a new beginning than by refreshing your living space with a new look? After more than 40 years as a home painting service, we've seen trends come and go, while some have stood the test of time. Here's a look at five classic home interior style elements to inspire your next upgrade.
Light As Material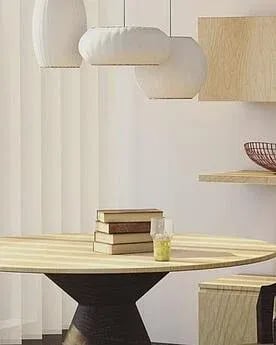 Light is about more than just fluorescent tubing and whichever lamp you happened to inherit from your home's previous owner. The placement of light in a room can alter how well you use its different areas, the general mood, and can even be a design element that blends with the more concrete elements such as wall colours and furniture. We just love how the placement of overhead lighting directly over the table differentiates that working area from the rest of the room. The staggered heights of the fixtures add visual depth to the space that keeps your eye engaged. The clean white complements the blinds during the day, while their glow when lit blends with the wooden tones of the furniture by night.
Statement Pieces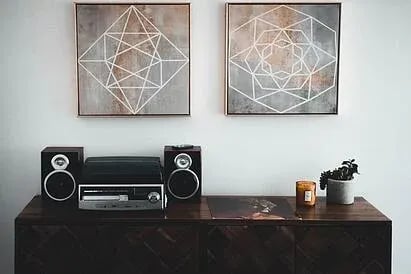 Staring at a blank wall can be wholly uninspiring, as is walking into a room that's 100% practical but gives little thought to look and feel. A statement piece or two in each room turns a walk through your home into a journey, anchoring the space and communicating your design theme clearly from the first moment. Here the marquetry in the cabinet doors is reflected by the two geometric paintings above it, turning the entire area into a functional artwork that's more than the sum of its parts.
Feature Walls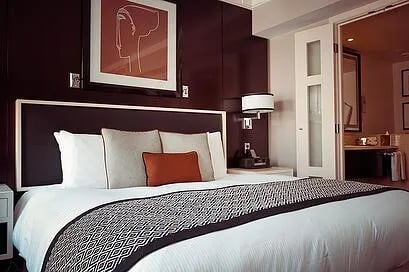 After more than 40 years in the home painting business, we've learned that not all feature walls are equal — lifting out a wall with a different colour is one thing, but it's how you blend in the accents around it in the rest of the space that determines whether this form of visual statement piece will work in your room or not. We love how this burgundy feature wall is complemented with accents of burnt orange in the art and bedding, with the patterning on the throw lifting the energy of the room just a touch.
Textured Walls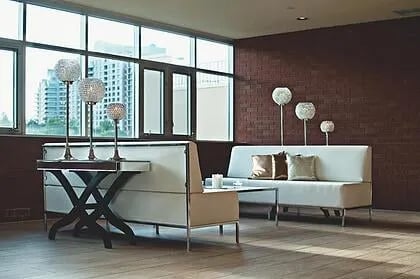 A textured wall is one way to create an interesting look in a room you'd otherwise like to keep minimally furnished. Whether you leave the brickwork unplastered, as in this room, or prefer a subtler texture coating or polished plaster, this special touch will build your home into a sensory experience you just can't wait to explore. The deep reds of the exposed brickwork in this apartment create a warmth that balances out the clean colours and lines of the furniture beautifully, creating elegance without fuss.
Colours That Speak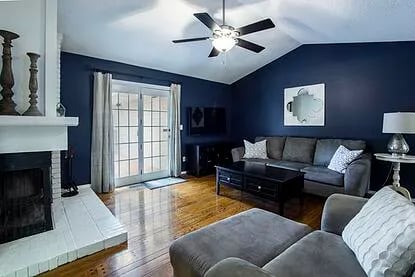 Bold colour choices are a great way to express your personality without taking up too much space. Precise edges between different colours can highlight interesting structural features, like this vaulted ceiling. With such strong colour choices, it's much easier to pick up bleeding edges — we recommend enlisting the help of professional home painters to ensure you get that razor-sharp finish.
At Barker-Whittle, we've seen the best and the worst of home interiors. One of our deepest pleasures is transforming less-desirable interiors into spaces you'd love to come home to. We have a fully accredited team that takes care of interior painting, including special finishes like polished plaster, and who take care of the details so that you don't have to. Turn your inspiration into reality — click here to request a free, no obligations quote.